The #1 Visual Asset Management Upgrade for SharePoint!
Take User Productivity to the Next Level With Instant-On File Visualization of all content, records, documents, audio, video and Adobe filetypes today in SharePoint 2010 and 2013!
MediaRich ECM for SharePoint is a game changer. That's because our Patented dynamic content rendering technology, makes the seemingly impossible – possible, instantly providing your users something to smile about. With a click of the MediaRich Instant-On button ECM for SharePoint 4.3 transforms any SharePoint Document Library or Asset Library into a visually appealing interface, while simultaneously enabling deep inspection of all files throughout SharePoint libraries and all Search… accelerating productivity and collaboration, and enabling anyone to find and preview the right file for the job FAST.
One MediaRich Settings Button does it all:
With a click of a button, any contributor can upgrade existing Document Library Web Parts anywhere in SharePoint! If you need to manage all your content and/or enable external resources, just create a MediaRich Asset Library for a powerful, scalable media asset management system.
Instantly create a Video Tube for your company.  Just turn us on and all your videos will play everywhere right within SharePoint!
See your documents including Microsoft Word, Excel, PowerPoint
Instantly upgrade all Search: Enterprise, Enhanced, Standard and FAST
View your images, multi-page documents
Hear your audio files and search on their ID3 metadata tags
Automatically extracts all metadata and now enables batch term-store with MetaBatch™ Processing!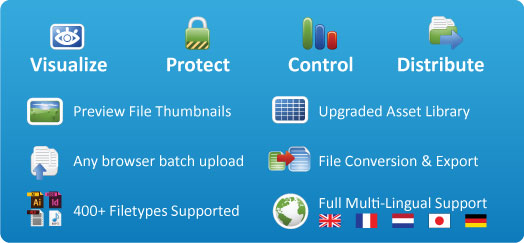 Key Features MediaRich ECM with Instant-On provides for ALL Users of SharePoint
MediaRich ECM for SharePoint scales to any size organization to provide a host of next generation features directly in any SharePoint Document Library Web Part.
Inspect all files without special plug-ins or the need to download. Dynamic visualization technology does all the work.
Microsoft Office documents, Adobe CS Files, image, video, raw camera, audio file types supported. Over 400+ file types supported!
Enable Instant-On in any library for immediate thumbnails, MediaRich Sonic Zoom and video/audio playback.
The new MediaRich Content Type extracts IPTC, EXIF and XMP/XMP2, ID3 metadata from all files, making it possible to find them.
Any enabled library automatically presents visual results directly in SharePoint Search or MediaRich Search.
Standard-SharePoint: See file names and icons only – to open and preview, you have to download the file and have the creator application software on your PC or special plugins that can be slow and unreliable. After turning on MediaRich: See small previews, video and audio ingestion from any source file. No pre-processing required for all files – to open and preview media, simply double click on the file. No need to have creator software installed on your PC (e.g. a full copy of Adobe Illustrator or Photoshop) or any custom players. MediaRich's auto conformance engine does all the work!
For Marketing, Portal and Extranet Users – The MediaRich Media Workspace integrated MAM
The problem with finding information today inside of any DAM is how hard it is to tag content correctly and in an efficient manner. We made the ultimate batch uploader to solve the biggest problems for ingesting content in large or small quantities while providing a universal interface:
The innovative MediaBatch™ uploader enables interoperability with most popular browsers and platforms. It is not limited to 2 gigabyte per batch maximums, like other uploading solutions.
It handles entire hierarchical uploads all in on operation from diverse browsers.
The innovative metadata post-processor empowers taxonomy and project managers to append or replace fields to tag thousands of files at a time.
IPTC, EXIF and XMP metadata is extracted during the upload process to maximize the available search content.
Single and Batch Video File Conversion and Transcoding within SharePoint
MediaRich for SharePoint enables users to not only visualize and play their videos in SharePoint, but to transcode their videos to different file formats as well.


You can convert your existing video files individually batch transcode whole files or create proxy clips into any of the most commonly used video file formats including: Windows Media, Silverlight, QuickTime, Flash Video* and a variety of popular mobile device video formats. 88 of the most popular pre-defined video file setttings are built into the export, including downloadable files like Windows Media Video, 3g, iPod, iPad and many more. (* requires special plug-in) Administrators can add any file type or video settings desired to the menus or remove undesired ones.
See the new Instant-On Asset Library Upgrade
Administrators can configure the number of columns and control which metadata fields are displayed. MediaRich® ECM for SharePoint brings a robust, easy to install, self-service B2B portal and Enterprise Content Management (ECM) solution to Microsoft WSS, SharePoint Foundation, SharePoint 2007 and SharePoint 2010. All in a single installer, for any size organization, farm or SharePoint deployment.
For Creative, Marketing and IT Professionals
MediaRich for SharePoint is embedded into the fabric of SharePoint and scales for deployment from small teams to full enterprise implementations.
Quickly find your media assets with customizable metadata for advanced search
View and edit media properties and all metadata
Video thumbnails and playback
Zoom in for previews of videos, Office, Adobe® files, PDF, CMYK, and other bitmap formats before downloading
Create derivatives without altering the originals
Fully integrated server side application
Helps integrate the use of Macintosh computers in a SharePoint environment
Instant-On automatically upgrades SharePoint search


MediaRich® for SharePoint™ is in use by hundreds of corporations from many different industries. The technology can be leveraged inside of a company's SharePoint deployment, as it integrates seamlessly. There is no need for complex training because while making SharePoint more visibly "adoptable", it has no secondary users to manage nor DAM system to connect to.
Instant-On Capabilities are now pervasive throughout SharePoint for mobile access to all filetypes and automatic search integration for any SharePoint Search!
Write custom dynamic media processing apps for SharePoint
For custom development and System Integrators needing even more:
Seamless .NET and the MediaRich CORE Server API's for custom apps
MediaRich URL-based methodology, Microsoft .NET Web service and COM application programming interface (API) enable seamless and straightforward integration with application servers, asset management systems, CMS, content delivery networks, databases and standalone applications. This enables custom Web applications to talk directly to the MediaRich Server for creating unique dynamic content delivery direct-to-web. The MediaRich server can be integrated into any stand-alone or Web application through Microsoft .NET Web service and the MediaRich COM Application Programming Interface (API). This includes a MediaGen WebService client to create and execute requests, providing the framework for building transaction-based services for various media types, data interaction and extraction of data from heterogeneous production environments.